Piccolo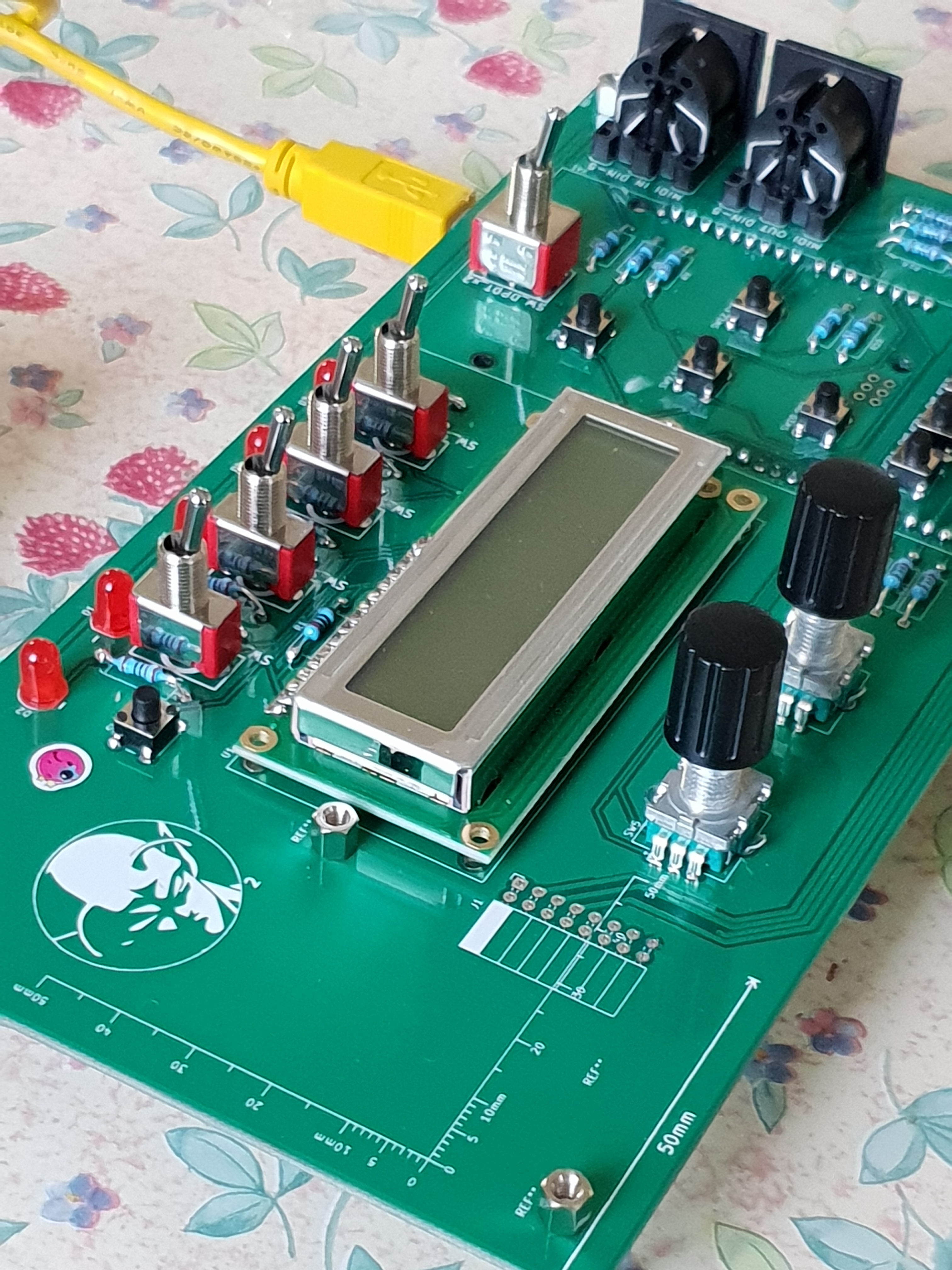 Piccolo is a polyrythmic errorist MIDI sequencer, slightly verging towards a proto-programmable interpreter
the current prototype ( PCBv2 ) is based on the ATmega2560 architecture and MIDI protocol - we are busy right now with a transplantation to Teensy3.5 for more speed and memory
the best place to see some movies of it in action is on my fb page : https://www.facebook.com/Piccolo-MIDI-sequencer-230847087794581/ -
i also compiled a few videos here : https://www.youtube.com/watch?v=yQdNbUFVs8c
It features :
MIDI in
MIDI out
LCD screen, 2 lines of 16 characters ( will be changed into OLED for the next version )
tap tempo ( different styles )
4 time-independent layers
up to 32 seconds loops ( shall be extended in PCBv3 )
full 16 Channel capacity ( 16 channel can be used on each 4 layers )
32 notes by layer ( shall be 64 or 128 on PCBv3 )
more than 100 matrix transformations of the sequences ( delay, variable delay, transposition, harmonization, modulation, tonulation, reverse, inverse, simplification, etc... ) - most of it is crazy stuff, you'll just need to dive in the manual to get a clue
modulation of the layers by sequences : useful for (ir)regular transpositions, by note or by layer, modification of velocity, modification of length of note, etc.
possibility to program regular events, launching a transformation, either in absolute time, or after a certain repetition of one (or several) layers

sending CC to any channel, either time-based ( ex. modifying the length of a reverb every 30 sec ), or by note ( modifying it every 5 notes )
possibility to save and load layers as .txt files on SD cards. you can simply edit those .txt files on any text editor on any platform

reading .MIDI files on the SD card ; possibility to glitch those at core level
USB cable alimentation - does not require a computer to work
Big thanks to : Ikue Mori, Steve Reich, Two Lone Swordsmen, Christian Wolff, Seth Horvitz (Sutekh), Phillus and Actress for most inspiration on building this thing.
Development :
busy right now with transplanting to Teensy 3.5 and will build a new PCB, with step sequencer probably ( Roland Electribe-style )
dispatching the newest prototypes to the beta-testers ( Antoine, Thomas, Eduardo ) = Piccolo PCBv2
latest development version was Piccolo IV ( prototype ) - 2018
Piccolo III : metal front prototype with Arduino Mega - 2017
Piccolo II : metal front prototype with Arduino Uno - 2017
Piccolo : Arduino Uno with simple breadboard - 2016
The future :
We just had 3 prototypes given away for 3 months for feedback to various musicians. -> oct/nov 2018
We are now upgrading the core of the machine to ESP32 or more likely Teensy3.5 ( faster, more memory )
Later on, most likely a small edition of 12 Piccolos with a solid metal or wooden case - production price should be around 300€ - get in touch if you are interested at ini.itu.rec@gmail.com
We think will be present at Maker Faire Paris 2019 !
Archives :
the very very first prototype :